There was so much charm from the venue of this Mebane wedding to the old Southern traditions. This North Carolina wedding at the cozy & private Bingham Inn made for such a romantic celebration. Southern tradition at it's best complete with a party bus, pig pickin', monogrammed corn hole and diggin' the bourbon to name a few. The just married couple loaded up the wedding party in the fun Bridge Bus and headed over to the reception. Time to party!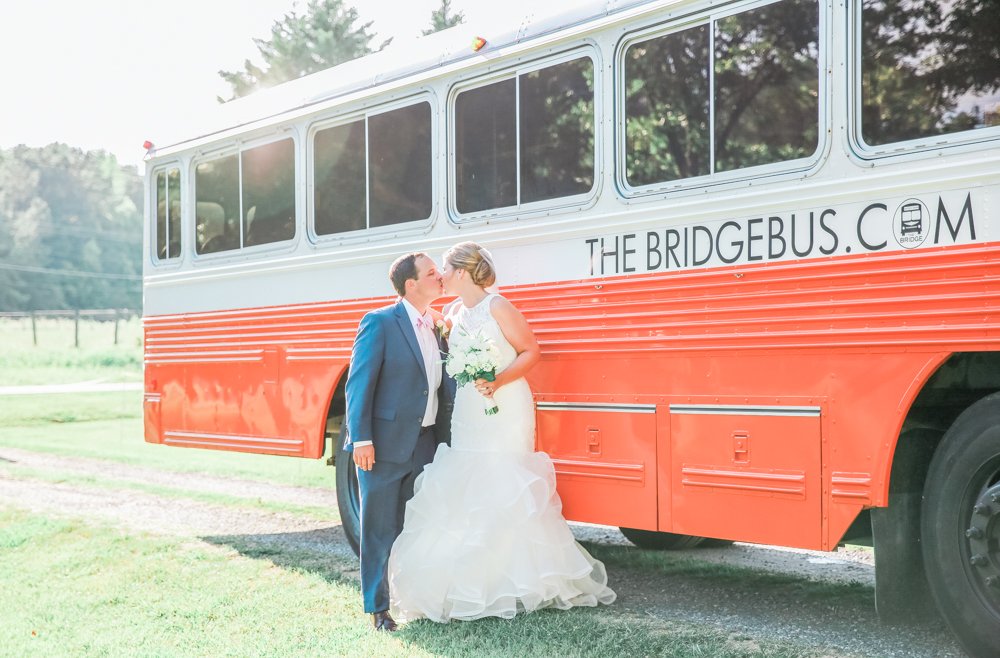 When the bride, Ashley tells me get ready for diggin' up the bourbon, I was stumped. Come to find out it's an old Southern tradition and I think this one falls under the heading of "crazy traditions".
My research was inconclusive as to where this tradition began, though some sources said Virginia, and some Tennessee. Regardless of the location, Southern folklore says that if you bury a bottle of bourbon at the site where the bride and groom are to be married, then it won't rain on their wedding day.
According to many believers, this must be done exactly one month before the wedding. The bottle must be completely full and it must be buried upside down in order for it to keep the rain away. It must work because it kept the rain away and we had a day full of clear skies.
Sure as cornbread goes with greens, you're the answer to my dreams." – Southern Saying
The night was complete with an emotional speech from maid of honor and sister and the night full of dancing and celebrating.
Traditional North Carolina wedding
Such an honor to have Huff Post feature the dreamy moment of Ashley & Andrew swinging from the magnificent grandfather oak. This was such a proud and gorgeous moment to capture. Thank you Huff Post!
Congratulations Ashley + Andrew! ♥